A Unit of Senior Division NCC (infantry) has been attached to the college since 1967 onwards. Also, a new platoon for girls of this college was started in 2004. Admission is open to all able bodied students. Attendance for parade is compulsory. Cadets who do not put in the minimum required number of days of attendance for parades will not be allowed to appear for the NCC certificate examinations.
NCC Officer
Lieutenant Dr. Premachandran Keezhoth (Dept. of English)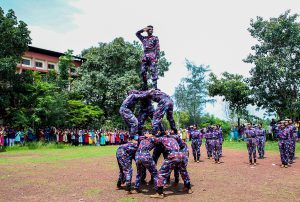 Kargil Vijaya Diwas celebrated
On the occasion of the 23rd anniversary of Kargil Vijaya Diwas, 32 Kerala Battalion NCC Payyannur College Unit honoured the brave Jawan Honorary Subedar Major Srinivasan ( Retd )who took part in the 1999 kargil war on 26.07.2022. Payyanur College Associate NCC Officer Lt. Dr. Premachandran Keezhoth coordinated the meeting. Senior cadets including Senior Under Officer Akash PP, Under Officers Vismaya P, Ujwal KP and Company Sergeant Major Nithin Nandakumar were the leaders. Sixty cadets and other college students participated in the programme.