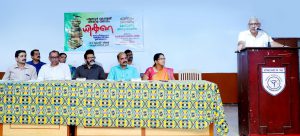 The Department of Malayalam has been functioning since the establishment of the college in 1965. A degree course with Malayalam major was started in the year 1971. Noted critic and orator Prof. M.R. Chandrasekharan was the first Head of the Department. Prof. M. Kesava Patteri, Prof. T.V. Vijayalakshmi, Prof. N.P. Rohini, Prof. Melath Chandrasekharan, Prof. B Muhammed Ahammed , Prof. E.A. Varghese, Dr K..P Malathi, and Dr T. Pavithran etc. served at the department at various points of time and all of them played very significant roles in giving a strong base to Malayalam linguistic, literary, and cultural studies, thereby taking the department to its present glory. The department has always stood in the forefront of promoting Malayalam language, tradition, and culture and also in bringing out the creativity and talents in the students. Many of the department alumni are taking various leadership roles in the educational, social, economic, and political spheres of North Kerala.
The department has also initiated various forums to channelize the activities of the students which include Malayala Samajam, Kalavedi, Folklore Club etc. The department has a unique collection of varied photographs of famous Malayalam literary scholars and historians, numerous art forms, and a few rare manuscripts. The theyyam photograph collection here is enviably enchanting. The department continues to function creatively in and out of the college by organizing seminars, workshops, and talks on the rich and varied literary and cultural heritage of Kerala.
Humanities subjects have a crucial role in shaping and moulding our society. The thrust being given now-a-days to the teaching and learning of the mother tongue, debates on the medium of academic instruction, official language policies of the state, the position of languages like Malayalam in the digital era etc. are being very hotly debated in the present scenario. This department also takes a very constructive role in such discussions though activities intended to promote Malayalam language and the regional culture in every possible way.