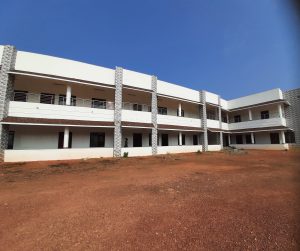 The Department of English, Payyanur College started functioning in 1965, the very year in which the college was founded. Only Pre-degree classes were held then. In the year 1969 it was elevated to a UG department. The activities of the department gained momentum with the brilliant contributions of the students and the teachers in the academic process. The need for a regular PG course was tremendously felt in the region and it became a reality in the year 2013. The department faculty consists of eight regular members and five guest teachers. The teachers strive for competence and are updated on the latest facets.
The department offers opportunity for the students not only to get a degree in language and literature but also to get an exposure to study the world's finest works in the historical, aesthetic and cultural contexts. Due weightage is given to extra-curricular activities and innovative approaches to learning, so also to extension activities for the benefit of the community around. The department is a Training Partner Institution of the ASAP programme of the Government of Kerala. In addition to the regular UG and PG programmes, it offers special certificate courses in Communicative English, Film Appreciation, and Translation and Subtitling. Regular opportunities for interaction with experts in the field of literary and cultural studies are provided to the students through seminars and invited lectures. Remedial classes, tutorial sessions, literary and cultural activities are the other regular attractions. The teachers are always accessible to the students, thus setting a fine ambience of knowledge exchange. The department is very particular in extending special care to the differently-abled students to boost their confidence and make them feel that they are part of the mainstream. The students are also given counselling on the innumerable opportunities awaiting them. All sorts of personal help, including financial support, are extended to the needy students. The students of the department have proved their calibre by fetching university ranks. They have got admissions for higher studies in the premier institutions all over India and abroad. Most of our students are placed well as they are equipped for a diverse range of professional fields that include teaching, fine arts, journalism, the publishing industry etc. and they also contribute to the field of technology and start up ventures. They always yearn to return to their alma mater with great affection.
The department attracts the budding aspirants and leads them to heights of all round development. All these finer aspects have contributed to its being a leading department of English among the affiliated colleges in the university.