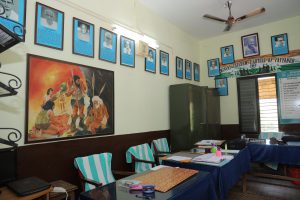 The archaeological remains excavated from Payyanur, and nearby places prove the existences of a city in this area centuries ago. Many famous foreign travelers, who visited here, have described about this area with high praise. This temple of education is a blessing in disguise to the students of rural areas in Kannur and Kasaragod districts. Payyanur Educational Society was formed on 25th August 1963. In May 1965, the Foundation stone of the college was laid by chief patron, late Vyghram S. Ramakrishna Iyer. In 1968 the college was affiliated to newly formed Calicut University. The Founder Principal of the college was Prof. P.K. Surendranath, a great economist, educationalist, writer and an eminent Orator.
A significant development of the next phase was the introduction of the Department of History in 1971 to teach the UG course to the students and is continuing its journey successfully till date ever since its inception with utmost effort on the part of the faculty members Prof. P M Lakshmanan, the founder head of the Department contributed greatly its development. The Study of history is one of the best ways of acquiring fundamental intellectual skills. Our undergraduate curriculum covers most areas and most periods of World History. The Department of History caters the need of higher Education. It enables an understanding of the foundations important to an educated individual.
Our Department has excelled in both curricular and co-curricular activities. In addition, the department plays an active role in historical activities beyond the college by participating in extension activities and public Speaking.