Payyanur College Organized Career Guidance Seminar
Payyannur : Career Guidance Seminar was organized on 6/1/2023 under the joint guidance of Payyanur College Career Guidance Cell, National Employment Service (Kerala) and Kannur University Employment Information & Guidance Bureau. Payyanur College Principal Prof. Dr Santhosh V.M. chaired the function. Kannur University Employment Information & Guidance Bureau Deputy Chief Smt. Pushpa T. M. inaugurated the seminar. Kerala Public Service Commission Assistant Section Officer Mr Manoj Kumar A. V. spoke on Kerala PSC and different career oriented examinations. College IQAC Coordinator Dr P. R. Swaran and College Union Chairman Athul Raj spoke on the occasion. Career Guidance Cell Coordinators Dr Vijesh M. M. welcomed the gathering and Dr Prasanth P. proposed the vote of thanks.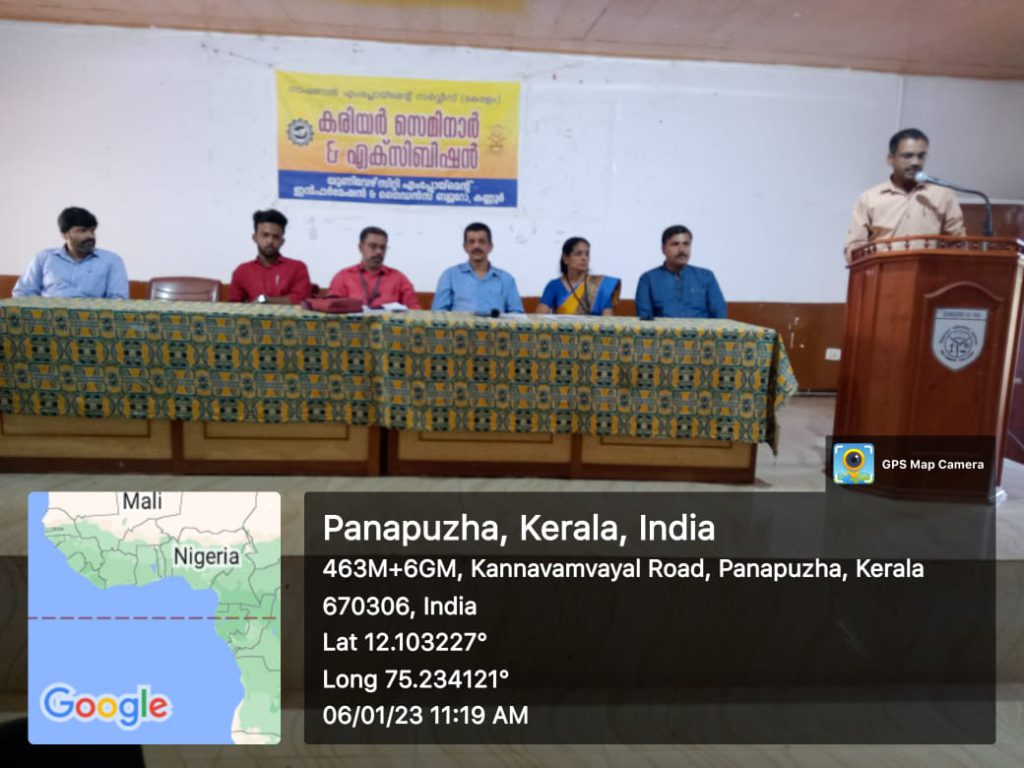 CONNECT CAREER TO CAMPUS PROGRAMME- REGISTRATION OF JOB
ASPIRANTS THROUGH DIGITAL WORKFORCE MANAGEMENT
SYSTEM(DWMS) PORTAL AT PAYYANUR COLLEGE
Connect Career to Campus is an initiative of the Kerala Knowledge Economy Mission
(KKEM) supported by ASAP, Kerala to transform Kerala into a Knowledge Economy by
transforming its workforce and creating an industry led skill ecosystem. The Digital
Workforce Management System (DWMS) is a digital platform initiated by KKEM that
provides a virtual platform to connect job aspirants in Kerala with job providers worldwide
With regard to the above perspective, Sruthi P S & Ramya C V, Programme officers ASAP,
Kerala (SDC- Mathil), Dr P Santhosh(Co-Ordinator, Career Guidance, Payyanur College)
and Archana Kemanabally (Co-Ordinator ASAP, Payyanur College) conducted the event.
The recipients of this programme were students pursuing their final year degree and post-
graduation degree courses. A total of 414 students were registered through this portal on
01/02/2023 at G22, Main Building, Payyanur College.