PROGRAMMES ORGANIZED BY THE DEPARTMENT
Training program for students in association with Sayahna Foundation
In association with Sayahna Foundation, Department of Malayalam, Payyanur College commenced the training program for students in collecting, digitalisation and online publication of books. It is for the first time in Kerala that College students are being a part of Sayahna Foundation activities. As a part of this initiative, Dr V. Lisi Mathew, Head of Malayalam Department, Sanskrit University, Kaladi, delivered a lecture on "Bhashasankethikatha: Sadyathakalum Velluvilikalum" at the Seminar Hall, Payyanur College on 16.11.2022. Dr.P.Prajitha, Head of Malayalam Department, Payyanur College presided over the function. Dr.V.M.Santhosh, the Principal, felicitated the function. Sona P welcomed the gathering and Dr.V.Vasudevan extended the vote of thanks.
സായാഹ്ന ഫൗണ്ടേഷനുമായി സഹകരിച്ച് പുസ്തകങ്ങളുടെ ശേഖരണം, ഡിജിറ്റലൈസേഷൻ, ഓൺലൈൻ പ്രസാധനം എന്നീ പ്രവർത്തനങ്ങളിൽ വിദ്യാർത്ഥികൾക്ക് പരിശീലനം നൽകുന്ന പദ്ധതിക്ക് മലയാളവിഭാഗം തുടക്കം കുറിച്ചു. കേരളത്തിൽ ആദ്യമായാണ് കോളേജ് വിദ്യാർത്ഥികൾ സായാഹ്ന ഫൗണ്ടേഷൻ്റെ പ്രവർത്തനങ്ങളുമായി സഹകരിച്ച് പ്രവർത്തിക്കുന്നത്.ഇതിനോടനുബന്ധിച്ച് പയ്യന്നൂർ കോളേജ് സെമിനാർ ഹാളിൽ 16.11.2022 ന് ഭാഷാസാങ്കേതികത – സാധ്യതകളും വെല്ലുവിളികളും എന്ന വിഷയത്തിൽ സംസ്കൃത സർവ്വകലാശാല കാലടി കേന്ദ്രം വകുപ്പധ്യക്ഷ ഡോ.വി.ലിസി മാത്യു വിഷയാവതരണം നടത്തി സംസാരിച്ചു. മലയാളം വകുപ്പധ്യക്ഷ ഡോ.പി പ്രജിത അധ്യക്ഷയായ പരിപാടിയിൽ പ്രിൻസിപ്പാൾ ഡോ.വി എം സന്തോഷ് ആശംസാപ്രസംഗം നടത്തി. സോന പി സ്വാഗതവും ഡോ വി വാസുദേവൻ നന്ദിയും പറഞ്ഞു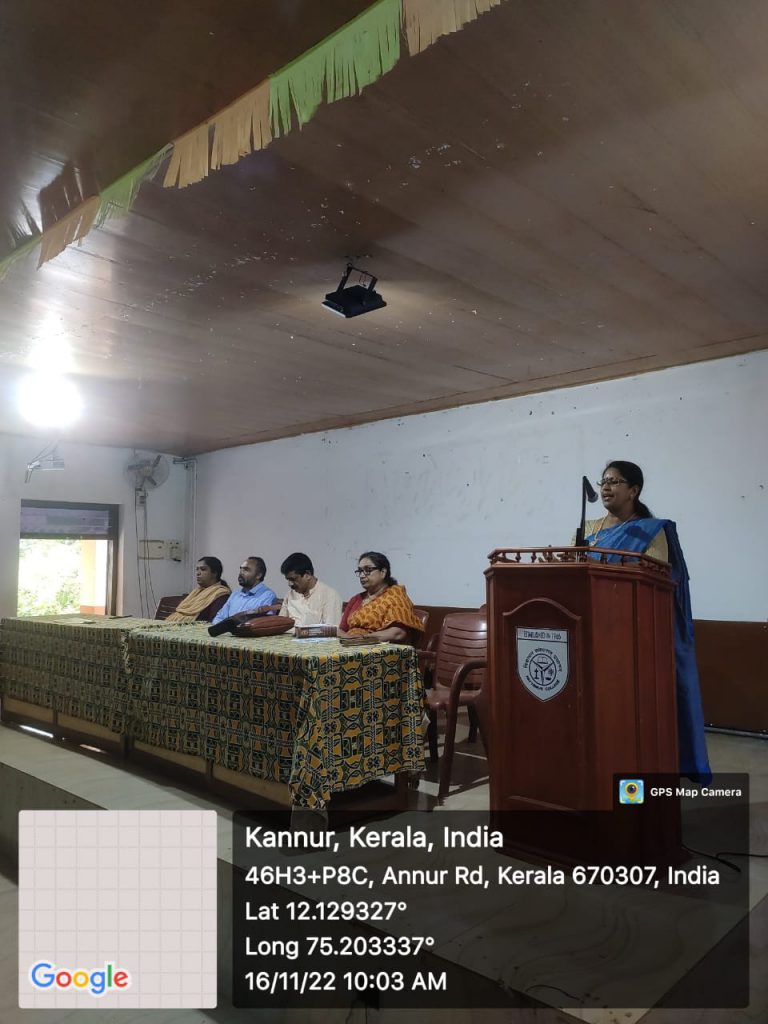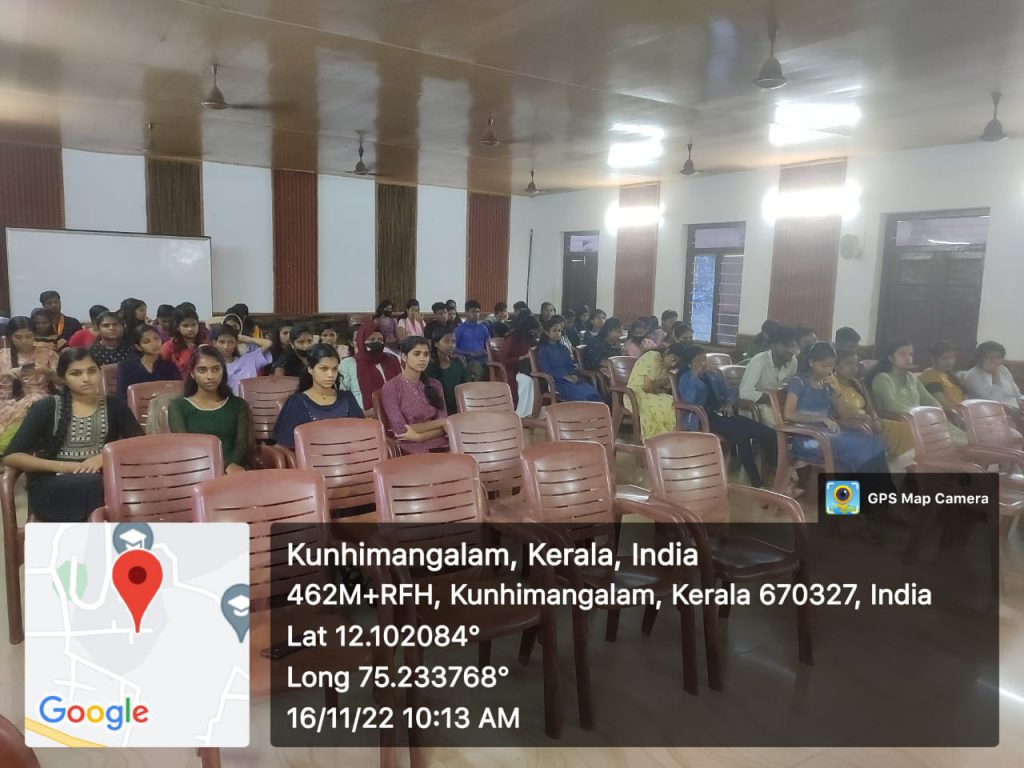 Department of Malayalam, Payyanur College, Payyanur organized a webinar as part of Teachers'Day Celebrations on September 5th. Revathi Vijayan an alumnus of the department spoke on the topic "Guru- Randaksharathil Othungunnilla Onnum" meaning "Guru- that cannot be limited to two letters " Head of the Department of Malayalam, Dr. Prajitha P. said welcome and BA final year student Sarath Mon P. said thanks. More than 40 students participated in the webinar.
സ്വതന്ത്ര്യദിനത്തോടനുബന്ധിച്ചും നമ്മുടെ കാമ്പസിൽ പ്ലാസ്റ്റിക് മാലിന്യങ്ങൾ പല സ്ഥലത്തും വല്ലാതെ കൂടിയിരിക്കുന്ന സാഹചര്യത്തിലും 12/8/2022 ന് ഉച്ചക്ക് IQAC യുടെ മേൽനോട്ടത്തിൽ സംഘടിപ്പിച്ച ഒരു സ്വച്ഛ് കാമ്പസ് പരിപാടിയോട് അനുബന്ധിച്ച് മലയാളവിഭാഗം അധ്യാപകരും വിദ്യാർത്ഥികളും ക്യാമ്പസ് ശുചീകരണ പ്രവർത്തനങ്ങളിൽ പങ്കെടുത്തു.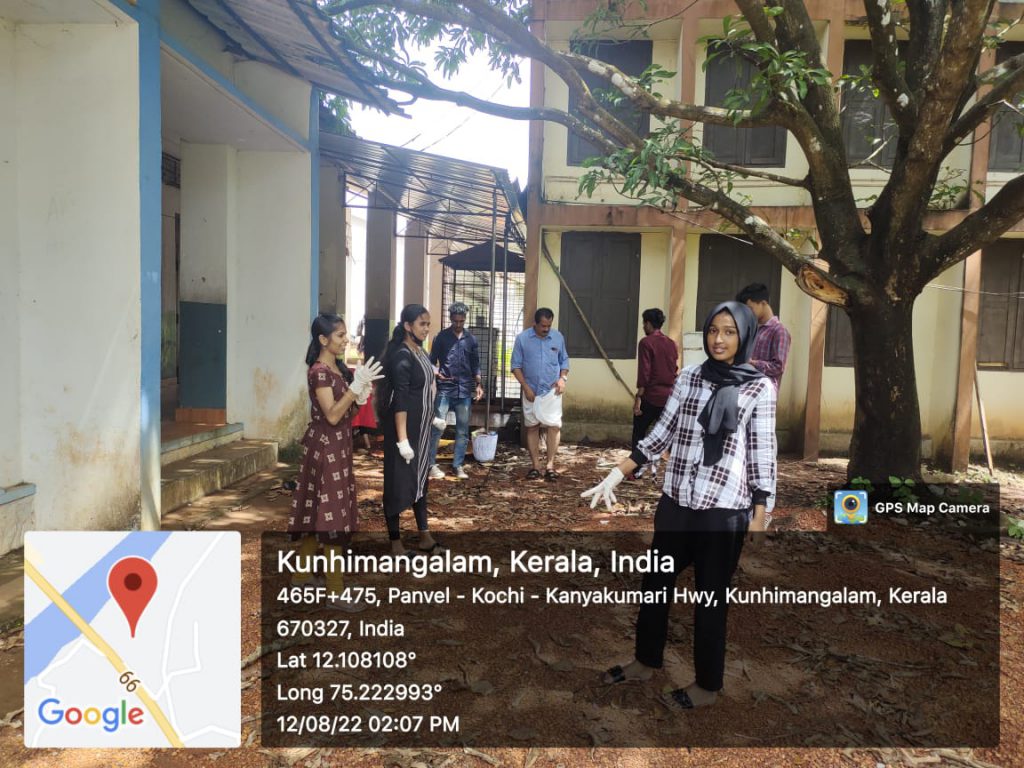 പയ്യന്നൂർ കോളേജ് IQAC യുടെയും മലയാളവിഭാഗത്തിൻ്റെയും സംയുക്താഭിമുഖ്യത്തിൽ ആസാദീ കാ അമൃത് മഹോത്സവത്തിൻ്റെ ഭാഗമായി "സ്വാതന്ത്ര്യസമരസ്മൃതിപഥങ്ങളിലൂടെ " എന്ന പേരിൽ പയ്യന്നൂരിലെ ചരിത്രസ്മാരകങ്ങളിലേക്ക് പ0നയാത്ര സംഘടിപ്പിച്ചു. ഉപ്പുസത്യാഗ്രഹവേദിയായ ഉളിയത്തുകടവ്,ഗാന്ധിമ്യൂസിയം, ശ്രീനാരായണവിദ്യാലയം എന്നീ സ്ഥലങ്ങൾ സന്ദർശിച്ചു .സ്വാതന്ത്ര്യസമരസേനാനി ശ്രീ.വി.പി അപ്പുക്കുട്ടപ്പൊതുവാൾ സ്വാതന്ത്ര്യപൂർവ്വ ഇന്ത്യയിലെ വിദ്യാഭ്യാസ അനുഭവങ്ങളും സ്വാതന്ത്ര്യസമരാനുഭവങ്ങളും വിദ്യാർത്ഥികളുമായി പങ്കുവച്ചു.തുടർന്ന് സഞ്ജയൻ സ്മാരക ലൈബ്രറിയുമായി സഹകരിച്ച് നടത്തിയ പരിപാടിയിൽ അന്നൂരിലെ സ്വാതന്ത്ര്യസമരപ്രസ്ഥാനത്തിൻ്റെ ചരിത്രത്തെ പറ്റി ശ്രീ.യു.രാജേഷ് പ്രഭാഷണം നടത്തി.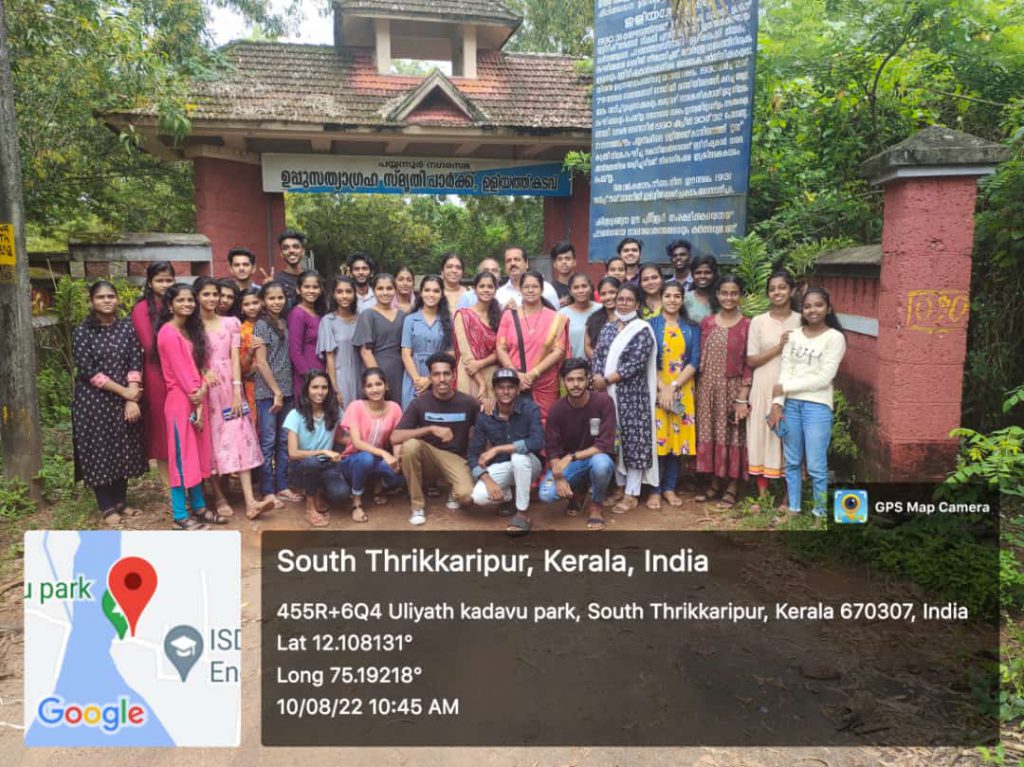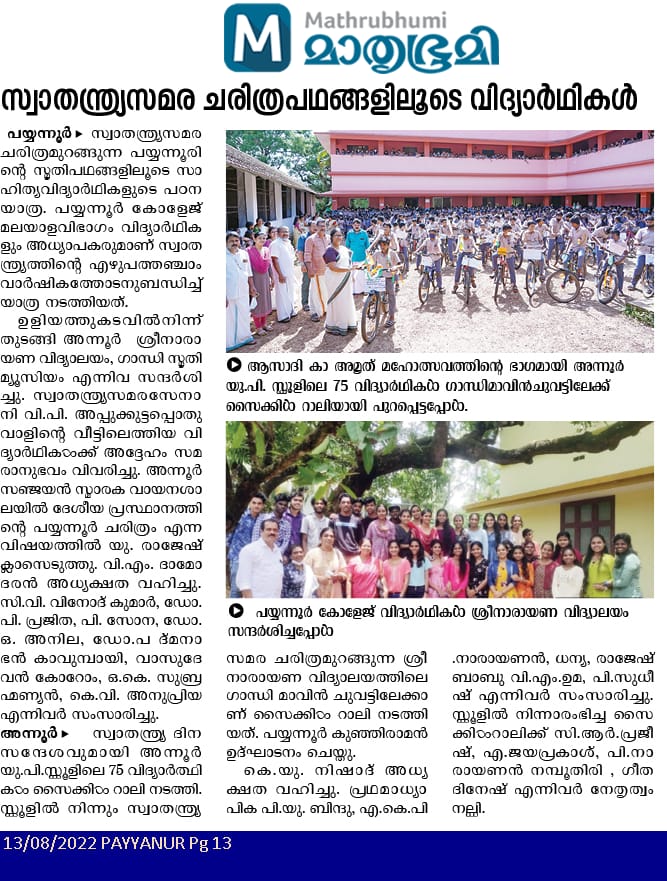 23, 24 January 2018
Two-Day International Seminar : a Two-day International Seminar was conducted on 23rd & 24th January 2018 on the topic Folklore: Anushtanam, Vinimayam, Samooham. Padmasree Smt. Pepitha Seth inaugurated the function. As part of the seminar, folk art forms such as Kurathiyattam, Kakkarassi Natakam & Mangalam Kali were performed with the support of the Kerala Folklore Academy.
14 November 2017
Kootiyattam Performance : A Kootiyattam performance by Kalamandalam Jishnu Pratap and team was organized on 14th November 2017. The programme was held in collaboration with Folkland, Trikaripur and Dorf Ketal, Mumbai. Subhadra Dhananjayam- Day 2 was presented before a large audience comprising students, teachers and other art-lovers.
Nangyar Kooth Performance: A Nangyar Kooth performance was held 14th November 2017 in association with National Academy of Music Dance and Drama and Koodiyata Kala Kendra. Kaaliyaamardhanam was staged by the renowned artist Kalamandalam Krishnendu.
23 August 2017
Kadhakali Performance: Nalacharitham Rantaam Divasam was staged in association with Folkland, Trikaripur and Dorf Ketal on 23rd August 2017.