PROGRAMMES ORGANIZED BY THE DEPARTMENT OF HINDI
Department of Hindi, Payyanur College organized a talk on " Nationalism: Hindi and Payyanur" as part of Azadi ka Amrit Mahotsav. The talk was delivered by Sri. K Gopalakrishnan, teacher and Executive Member of Dakshin Bharathiya Hindi Prachara Sabha. The talk was based on the theme 'How Hindi became the language that wrote of nation and nationalism'. Sri Gopalakrishnan has been working with the Hindi Prachara Sabha for more than 60 years and is a renowned disseminator of Hindi language. As a resident of Karivellur, he recollected from his memory and experience the relationship Payyanur shared with
Hindi. He fondly remembered the great personalities of Payyanur who worked for spreading Hindi among the people. He spoke about the importance of Payyanur in the National Freedom Struggle and exemplified the role played by Gandhi, Khadi and Hindi in these struggles from his experience. The program which was conducted as part of the celebration of the 75th anniversary of India's Independence was enthusiastically welcomed by the students. For the Hindi department,the talk became an impetus to explore more about the history and relationship between Payyanur and Hindi. Dr Sindhu A, Dr. Vishnu Thankappan, and Dr, N M Sreekanth talked on the occasion. Patriotic songs sung by the students enriched the program.
Premchand Birth week celebrations
The Department of Hindi, Payyanur College officially began the Premchand Birth week celebrations to commemorate the birth anniversary of the great writer of Hindi literature, Munshi Premchand on 25 th July,Monday. The programs of first day included a screening of film adaptations of Premchand's works; quiz and Hindi story writing competitions for the students. The programs on Tuesday will begin with a Hindi oratory competition for students followed by film screenings. The celebrations will end on Friday with a lecture by Dr. Dharmendra Pratap Singh from the department of Hindi and Comparative Literature, Central University.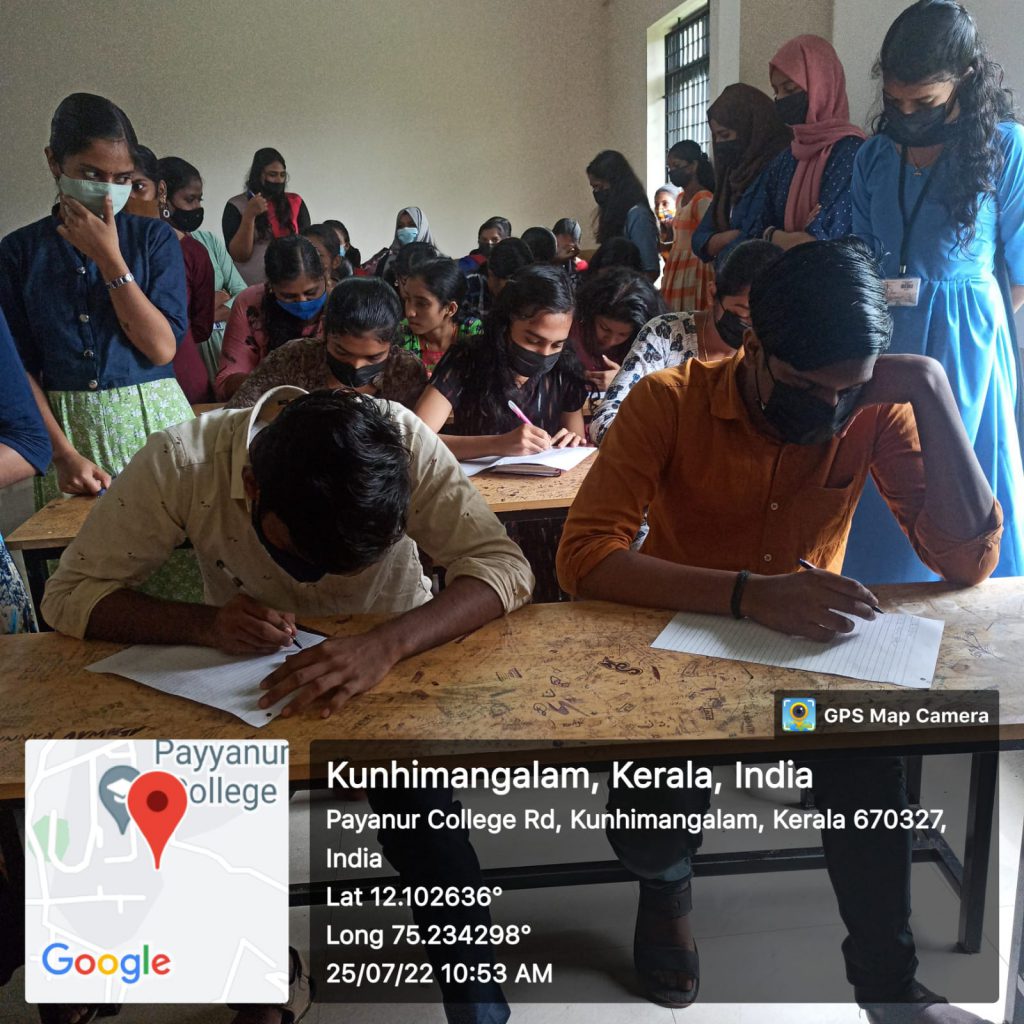 The Culmination of Premchand Jayanti Week Celebration
The programs held at Payyannur College on the occasion of the birthday of the famous Hindi writer Premchand ended with a drama presented by the students of the Hindi department based on the story 'Thakur's Well' by Premchand. Kerala Central University Assistant Professor Dr. Dharmendra Pratap Singh gave a lecture on "Postmodern Criticism and Premchand". Department Head Dr Sindhu A. chaired the meeting. The students then took part in the discussion. Principal Dr Santhosh V M presented the prizes to the winners of various programs conducted as part of this occasion. Vishnu Rajeev gave welcome speech and Sapna Gupta expressed vote of thanks for the function.