2022-23
World ozone day celebrations
Department of Chemistry has conducted Poster Making copetition for college students as part of World ozone day celebrations on 16 September 2022.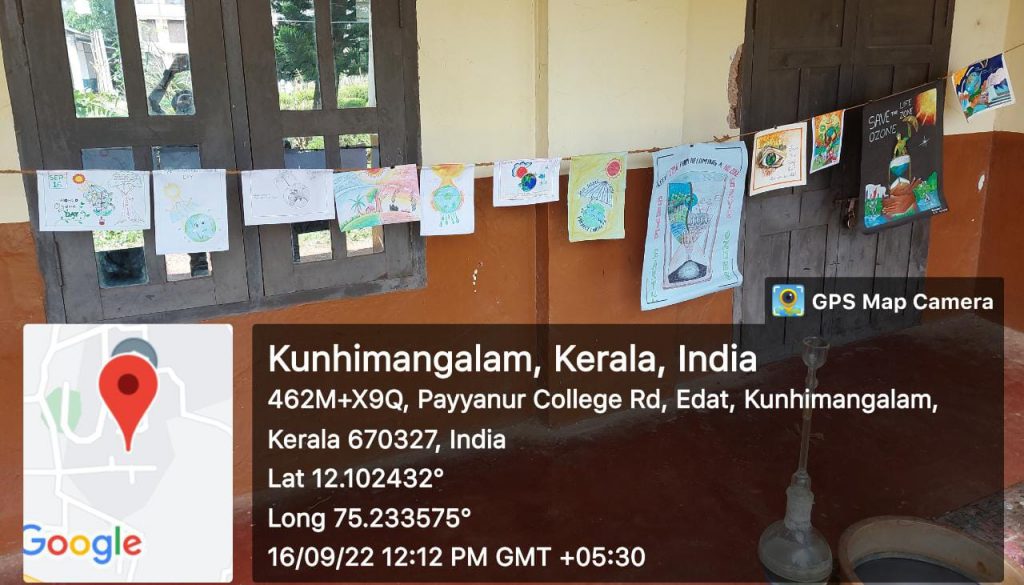 In connection with 'Azadi Ka Amrit Mahotsav ', IQAC and Department of Chemistry jointly organised a PPT presentation based on 'Champaran Satyagraha and the importance of Neelam(Chemical name – Indigo) dye in the revolt'.Programme was organised on 10/08/2022 at seminar hall, Payyanur College.The main targets of the programme was students of payyanur college and students from nearby schools of our college.Nearly 200 school students visited and participated in the programme.The main objective of the programme was to inculcate the general awareness about Champaran movement through Neelam dye.Also chemistry behind natural and synthetic Indigo dye was explained in detail .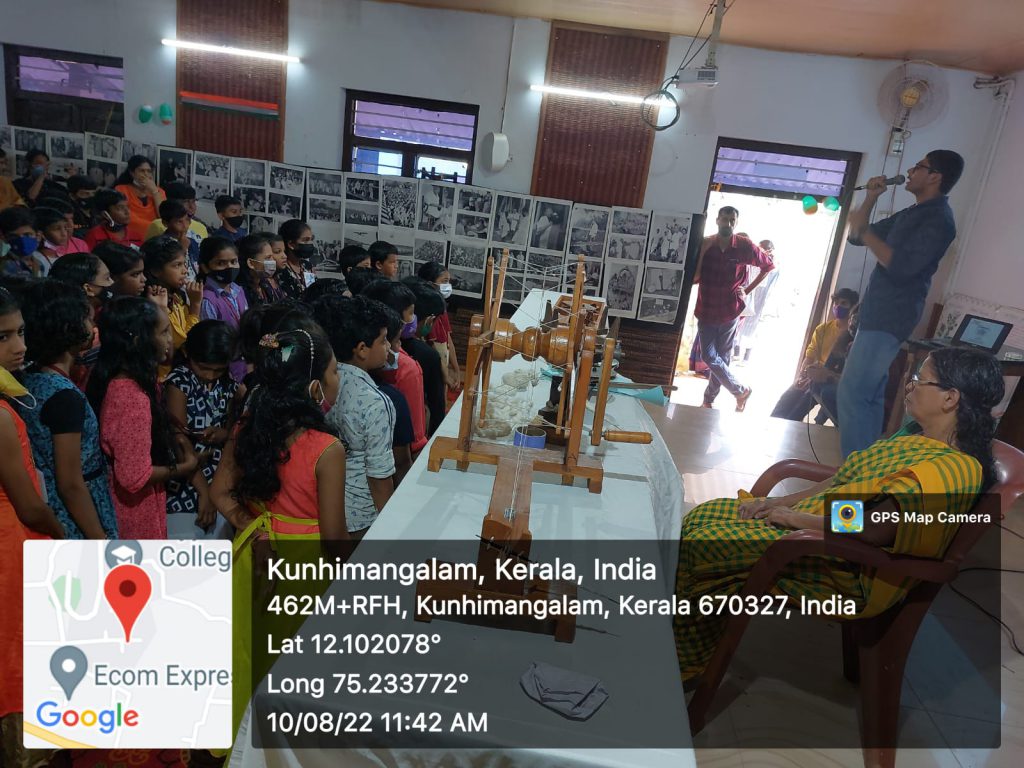 Highfliers felicitated by the Department of Chemistry
High achievers in academics were felicitated by the Department of Chemistry, Payyanur College. Twenty students who achieved A plus grade in the UG University exam, including Chaithanya P K, who won first rank in Chemistry UG program,34 th rank in All India JAM exam and got admission in IIT Delhi; Athira K who secured admission in IIT Jammu and Thahira M K P, who achieved high scores in MSc Chemistry were congratulated in the function. The program was inaugurated by Sri K Ramachandran Master, President, Payyanur Educational Society. Sri A V Manohar, Retired faculty and Head of the Department, Department of Chemistry was the chief guest. Principal Dr.V.M.Santhosh, Head of the Department Dr.Rahana Ameen, Nisha K V, Dr. A.M.Vijesh, Keerthana K felicitated the achievers and this was followed by their responses .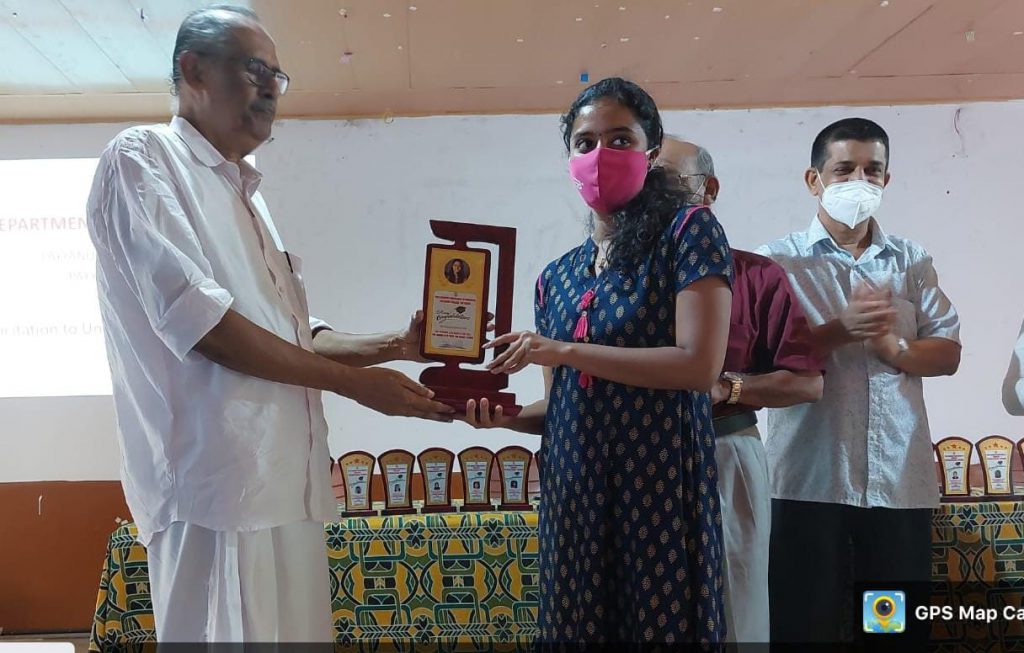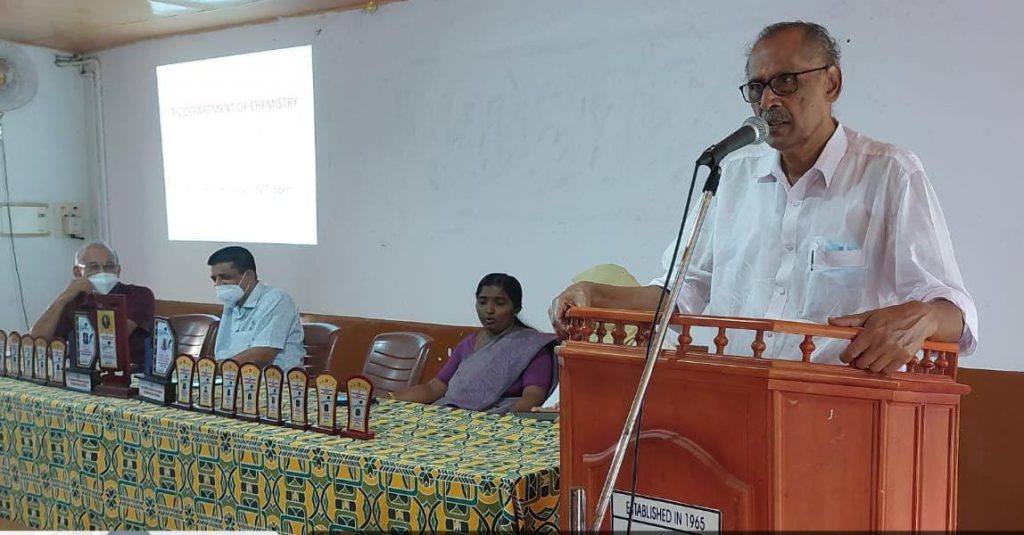 2020-21
Webinar on "Intellectual Property Right"
2019-20
One day seminar &Felicitation of University Exam Toppers (02-08-2019)
Film Show in association with "Open Frame, Payyanur", film on Shri. SrinivasaRamanujan "The Man who knew Infinity" on 02-08-2019
Inter higher secondary Science Quiz (23-09-2019)
Quiz was conducted in association with KTK Foundation. Dr. Rani S, Principal of KendriyaVidyalaya has delivered talk on "150 years of Periodic Table".
50th Anniversary celebration of Chemistry UG Department and Eureka Shastrakeralam (18-11-2019)
Talk by Dr. K M Sureshan, Associate Professor, IISER on the topic"Chemistry for Environment Protection"
Inauguration of Chemistry Association (04-02-2020) by Dr. Rajeesh P, Assistant Professor, Nehru Arts and Science College and delivered a talk on Dye Sensitized Solar Cells.
"Snehathin Thanmathrakal" 50th Anniversary celebration of Chemistry department (15-02-2020).
Outreach Activities of the dept :
Sanitizer preparation (work to control the spreading of corona virus) for various organisations in the scenario of Covid 19. Inauguration was done by T V Rajesh MLA.
2017-18
Seminar by Dr. N. Sanoj Riginold, Research Scientist, South Korea on 10th August 2017.
One day National Seminar by Chemistry Alumni Association, Payyanur College on Challenges and Prospects of Material Chemistry (CPMC-2017) on 11th January 2017 and the Seminar was inaugurated by Dr. A.V. Rmeshkumar (Scientist F, NPOL, Kochi). Dr. Pradeepan Periyat,Prof. M. Gopalan, Dr. Vinod V.T.P. were delivered talks in the seminar.
Seminar by Dr. Murukesan V. M., NTU, Singapore on 28th December 2017.
Seminar by Mr. Rakesh P.T., Scientific Officer-E, IGCAR, Kalpakkam on 5th January 2018.
Curtain Raiser Programme as part of 30th Science Congress. Dr. Madhavan Komath (Scientist, CWRDM) and Dr. P. Harinarayanan (Senior Scientist, KSCSTE) delivered talks on Water Quality parameters and Programmes offered by KSCSTE respectively on 15th January 2018.
Seminar by Dr. Sooraj K., Post Doctoral Fellow, Department of Chemistry, BarIlan University, Israel on 29th January 2018.
2016-17
1. Related to Environmental Day a class on Cosmetics by P. Gireeshan on 5th June 2016
2. Two day orientation class conducted jointly with Prof. KTK foundation for higher secondary students on 8th and 9th September 2016
3. Chemistry association inaugurated by Dr. A. Mohanan, Asst. Professor of Chemistry, NAS College, Kanghangad and delivered a talk on Green Chemistry on 27th February 2017.
4. Inter Department Quiz Competition on 27th February 2017 conducted by Chemistry association.
5. One day national workshop Recent advances in Chemical Science and Technology on 28th February 2017 and the workshop was inaugurated by Kannur University Vice Chancellor, Dr. M. K. Abdul Khader. Dr. Arun M. Isloor (NITK), Dr. K. Ravikumar (CUK), Dr. Madhusoodhanan (PDF, Itali), Dr. Ratheesh Krishnan (Govt. Womens College, Thiruvananthapuram) were delivered seminars in different sessions
2015-16
1. World Environmental day celebration on 10th June 2015 was celebrated jointly with Prof. KTK foundation and KSCSTE and a talk delivered by E. Kunhikrishnan, Retd. Professor, University College about Western Ghats: Biodiversity and Conservation issues and in another session by Prof. M. Gopalan, Retd. Professor, EKNM Govt. College about The Environment and its Protection
2. An inter department Quiz competition based on environment was conducted by on 23th June 2016.
3. Two day science orientation program conducted jointly with Prof. KTK foundation for higher secondary students of Payyanur Municipality area about valuable information and various scholarships.
4. Industry Orientation program by Dr. Ullas Mony, Chief Scientist, AIMS, Kochi on 11th January 2016.
5. UGC sponsored National Conference on Emerging research trends in Chemistry on 6th to 8th January 2016 which was inaugurated by Prof. Balakrishna Kalluraya, Senior Professor of Organic Chemistry, Mangalore University.
6. One day intercollegiate science fest for B.Sc. students of various colleges on 29th February 2016 was conducted with the support of Prof. KTK foundation.
7. An interactive session with eminent personalities, Dr. Sidharthan R., (NUS, Singapore) and Dr. Vinod V. T. P. (Liberas University, Cheque Republic) was conducted jointly with Dept. Of Physics and Prof. KTK foundation.
2014-15
1. A group of students accompanying with dept teachers visited Chemistry laboratories and examined the working of different instruments of NIT-K, Surathkal
2. Ozone Day celebrated by conducting Kannur University level seminar competition on 16th September 2016.
3. Chemistry association was inaugurated by Dr. P. K. Vasudeva, Asst. General Manager, SEQUENT Scientific limited, Mangalore on 2nd December 2014 and gave inspirational lecture on Industrial Chemistry and its opportunities.
4. Chemistry department participated in the AUREO-15, exhibition organized by the college by conducting fascinating chemical experiment with the name CHEMEX 2015 January 19th- 24th, 2016.
2013-14
1. Two day International Science Academies lecture workshop on Recent advances In material science was organized jointly with PROF KTK foundation.
2. Chemistry club conducted a motivational class to the students on Power Yourself to success by Santhosh P, Asst Prof of Commerce, Payyanur College.
3. Two day CSIR/UGC JRF/NET coaching classes was arranged for the PG students on 7th and 8th December 2013.
4. Seminar competition on the topic Chemistry and Environmental Protection for B.Sc. students of the colleges affiliated to Kannur University on 10th January 2014
5. Quiz competition for higher secondary students of Kannur-Kasaragod district were conducted in association with Prof. KTK foundation on 10th January 2014
6. A talk on Industrial safety and opportunities in industry by Mr. Roopesh, Asst. Manager, Quality control lab, MCF, Mangalore.
7. Two day residential camp PANACEA-2014 for all chemistry students of the college on 24th and 25th January, 2014. In connection with that a drama program about the drugs awareness by Excise Dept of Kerala. An exhibition was organized at Edanad UP School for their students to motivate them towards basic science.
8. Chemistry association was inaugurated by Mr. K. Padmanabhan, Senior Scientist, FACT, Aluva, Kochi, Kerala on 25th January, 2014.
9. A job orientation program by Mr. Mahesh, director, Oil and Gas Tech, Kasaragod for explaining the possibilities and opportunities in the area of corrosion on 29th January 2014.
10. Department magazine MANTLE released on 13th March 2014.
2012-13
1. Two day national seminar sponsored by Kerala State Higher Education Council on Recent advances in Chemical Sciences
2. Inauguration of Chemistry association by Mr. Sudhakaran, Forensic Dept. Calicut Celebrated Ozone Day on 16 September 2012 by conducting Quiz Competition for the college students