Activities of the Department: 2012-17
2022-23
Dr. Babu Valliyodan, Assistant Professor of Molecular Biology and Genomics in Lincoln University, USA interacted with students of PG Department of Botany, Payyanur College, Payyanur on 9/11/2022 .Dr V M Santhosh, Principal, Payyanur College, Payyanur inaugurated the programme and Dr Harikrishnan E, HoD, Dept of Botany gave the presidential address. The interaction aimed to enhance research interests in students and to explore the possibilities and job prospects that Bio informatics can offer. Dr. Babu Valliyodan, who is also an alumnus of Payyanur College remembered his days at college fondly and acknowledged that teachers who taught him here had a great role in his growth.The programme conducted in the Botany Lab was concluded with vote of thanks given by Albin Jose, student, IIPG.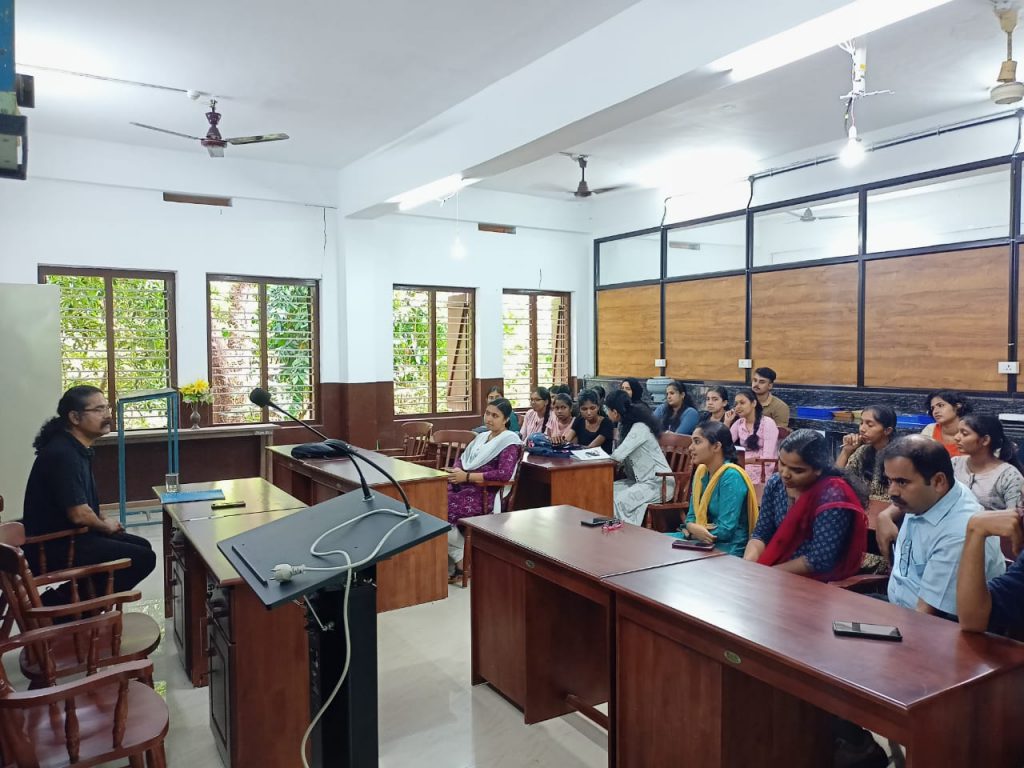 'Kunhimangalam maavu 'was planted at Uliathu Kadav .
Kunhimangalam maav (Kunjimangalam Mango tree)was planted at Payyannur Uliathu kadavu,the land of Salt Satyagraha. The tree was planted under the leadership of the 'Kunjyagalam Mango Association '( Kunjyangalam Manga Kootayma)formed in collaboration with Payyannur College Botany Department ,to grow Kunjimangalam maavu in the college campuses under Kannur University. In the Uppusatyagraha Park, which is dotted with Acacia trees, giving importance to fruit tree saplings, T.I. Madhusudhanan MLA planted a mango sapling as a memory plant(Smruthi maavu). Payyannur College Botany Department Head Dr E.Harikrishnan presided the function and K. Haridas, P.P.Rajan and Dr Deepa Mol spoke.
THAALUM THAKARAYUM – Ilakkarimelayum jaivakarshaka sangamavum
P.G Department of Botany, Payyanur College, Payyanur in association with Jaivabhumi, Natural Farmers Association, Payyanur organised a Leafy vegetable fest & Get together of organic farmers near Jaivabhumi Karshakante kada, Kokkanisseri, Payyanur on 13th August 2022 at 10 00am. The fest was inaugurated by Seema Mundachali, Assistant Professor, Department of Botany, Payyanur College, Payyanur followed by " Ilayarivu", an orientation class about leafy vegetables and their importance was taken by Dr Ratheesh Narayanan, Dr Unnikrishnan, K Haridas and Smt Sushmitha Rajan. Almost 75 leafy vegetables and their dishes including Pathravada, Narakayilakkaappi( Coffee with leaves of Lemon variety),Pachadi, Chutney, Upperi were exhibited in the fest. The Jaivabhumi Chairperson, Sri Rajan delivered the welcome speech. Sri Unnikrishnan gave the presidential address and Megha C K, II year BSc Botany student of Payyanur College gave the vote of thanks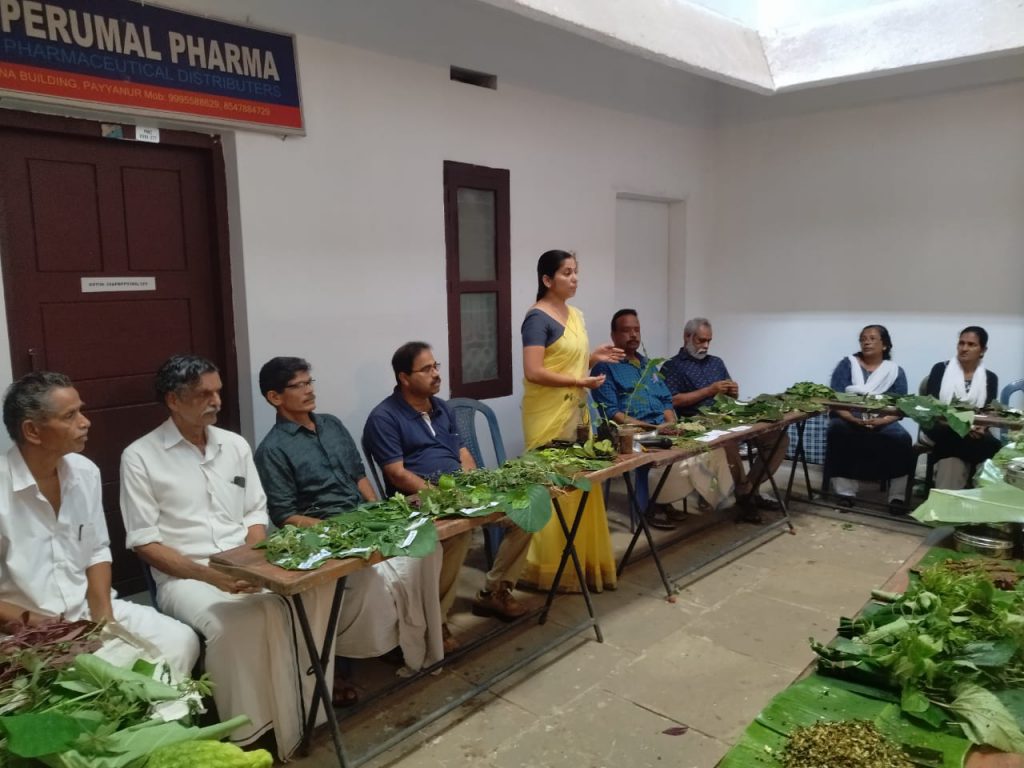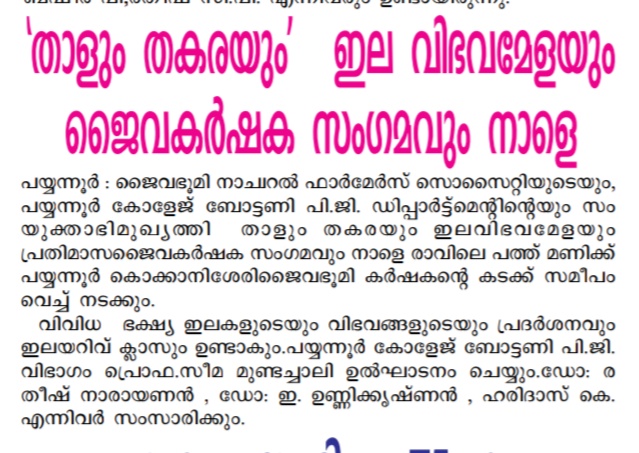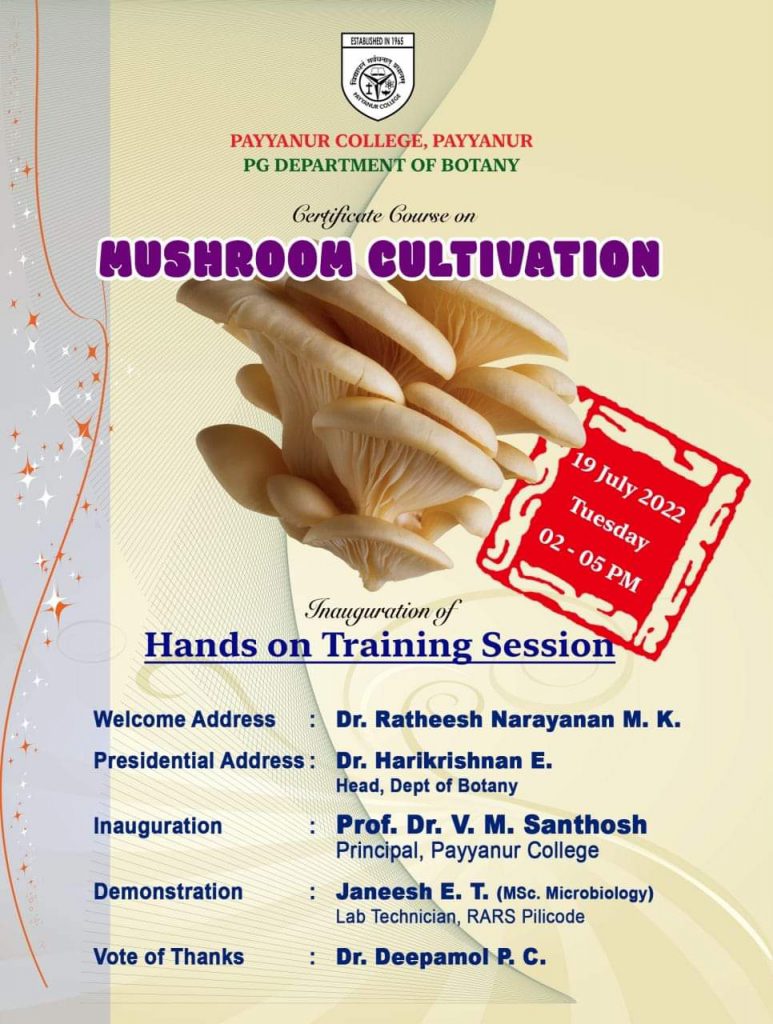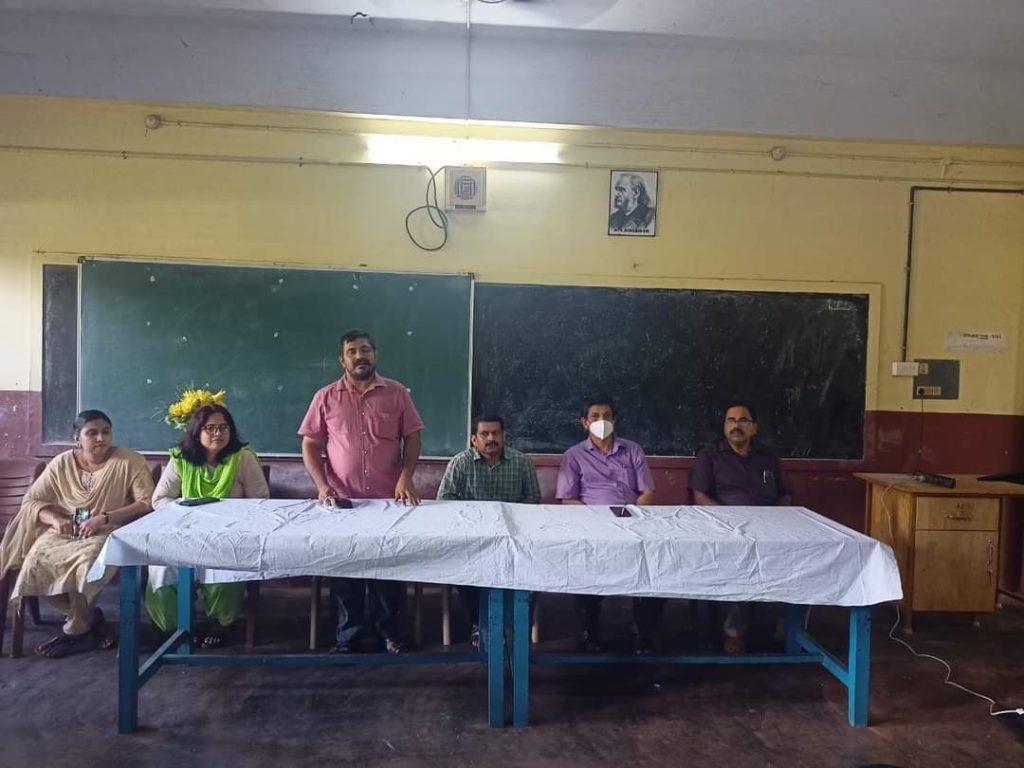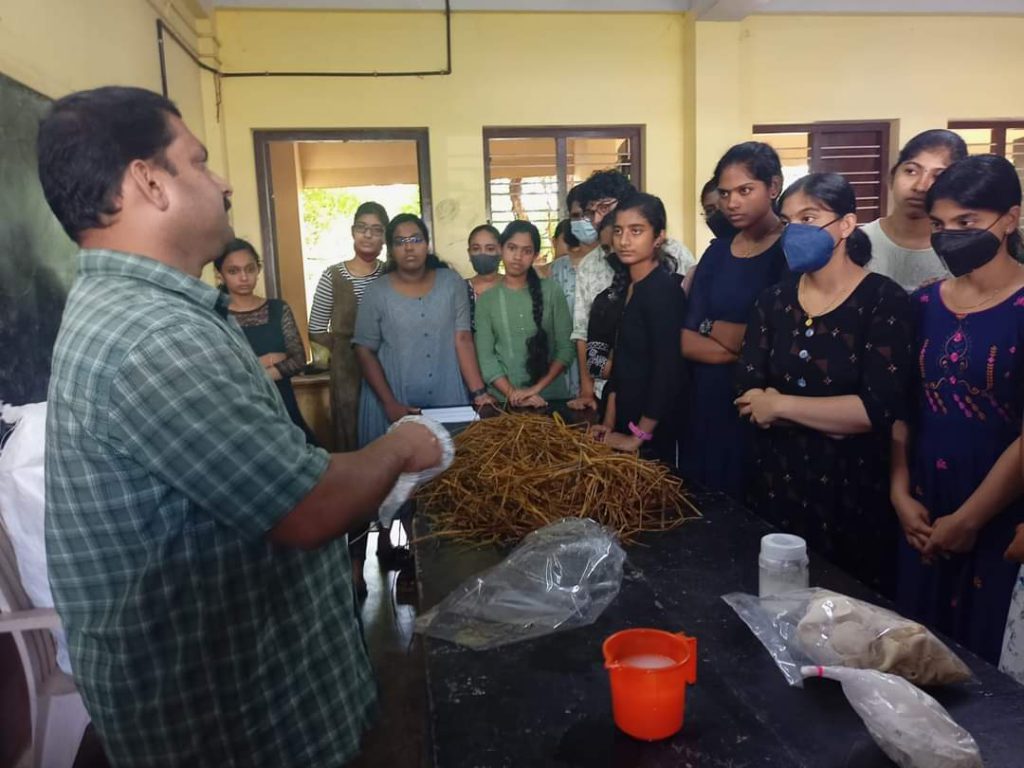 "Nattu Manchottilek"
Aiming at the conservation of the unique mango variety of Kunhimangalam region, the official inauguration of the "Nattu Manchottilek" project jointly implemented by the Payyannur College Botany Department and the Kunjangalam Mango Conservation Society was officially inaugurated on July 22, World Mango Day, at Payyannur College campus by Dr. V. Balakrishnan (Kasaragode DYSP, former Member Secretary of Kerala Biodiversity Board).Payyannur College Principal Dr V. M. Santhosh presided over the function. Dr M. K. Ratheesh Narayanan welcomed the gathering and P. P. Rajan proposed vote of thanks. Dr E. Harikrishnan, Dr P. R Swaran, Raju Ashirwad, Madhu TP, and K. S. Jayamohan gave their greetings. Sri. K. P. Narayan, the conservationist of local Mango tree varieties, was honored at the function.
About 20 saplings of Kunhimangalam Mango variety were planted in the campus. The aim of the project is to plant more than 100 seedlings of Kunhimangalam Mango tree in the college campuses of North Kerala and to ensure its protection.