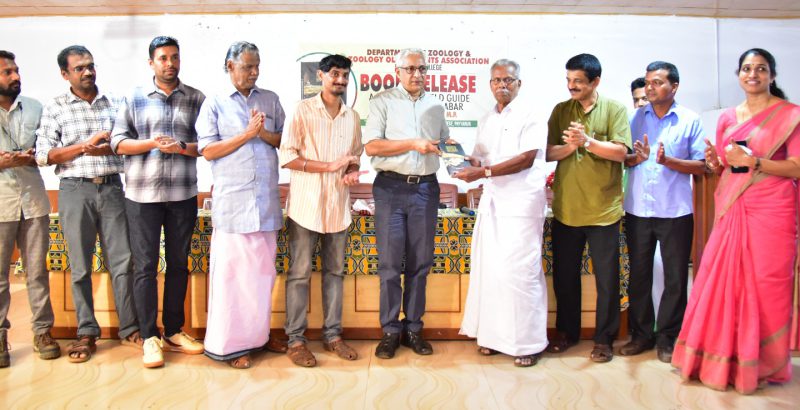 The book named 'A Beginner's Field Guide To Moths of Malabar' authored by Mr. M P Unnikrishnan, a student of Zoology department was released by the Hon. Vice Chancellor of Kannur University, Prof. Gopinath Ravindran in a function held at 11 am on 1st February 2023 at the seminar Hall. The Vice Chancellor pointed out the uniqueness about the book by a student and congratulated the Department for offering support. He urged other departments to take such initiatives.The book was published by the Department of Zoology and Zoology Old Students' Association (ZOSAPC), as part of RADS (Research Aptitude Development Programme).
The book is the first one of its kind being the firt field guide from Kerala on moths and the first scientific book published by a student from Payyanur College. the book has a pictorial description of more than 400 species of moths directly observed, photographed by his mobile camera, and described scientifically. The observations were done largely during the covid time.
The book was recieved from the Vice Chancellor by Mr. John Joseph Thayyil, Secretary, Payyanur Educational Society and the function was presided over by Dr Santhosh V M, Principal. Dr. KK Sreekumar, Alumnus of the department and Senior Entomologist, RAPP, Indonesia, introduced the book, T P Padmanabhan, Director, SEEK, Dr P R Swaran, IQAC Coordinator, Athul Raj, College Union Chairman and Mr P V Prabhakaran, ZOSAPC Executive Member facilitated on the function. Mr. Unnikrishnan explained his experience with moths that culminated in the publication of the book. Dr. sapna Jacob welcomed the gathering and Mr. M Ramith, Secretary, ZOSAPC proposed vote of thanks. More than 140 audience that include students, staff and alumni attended the programme. The programme came to an end by 1.30pm.