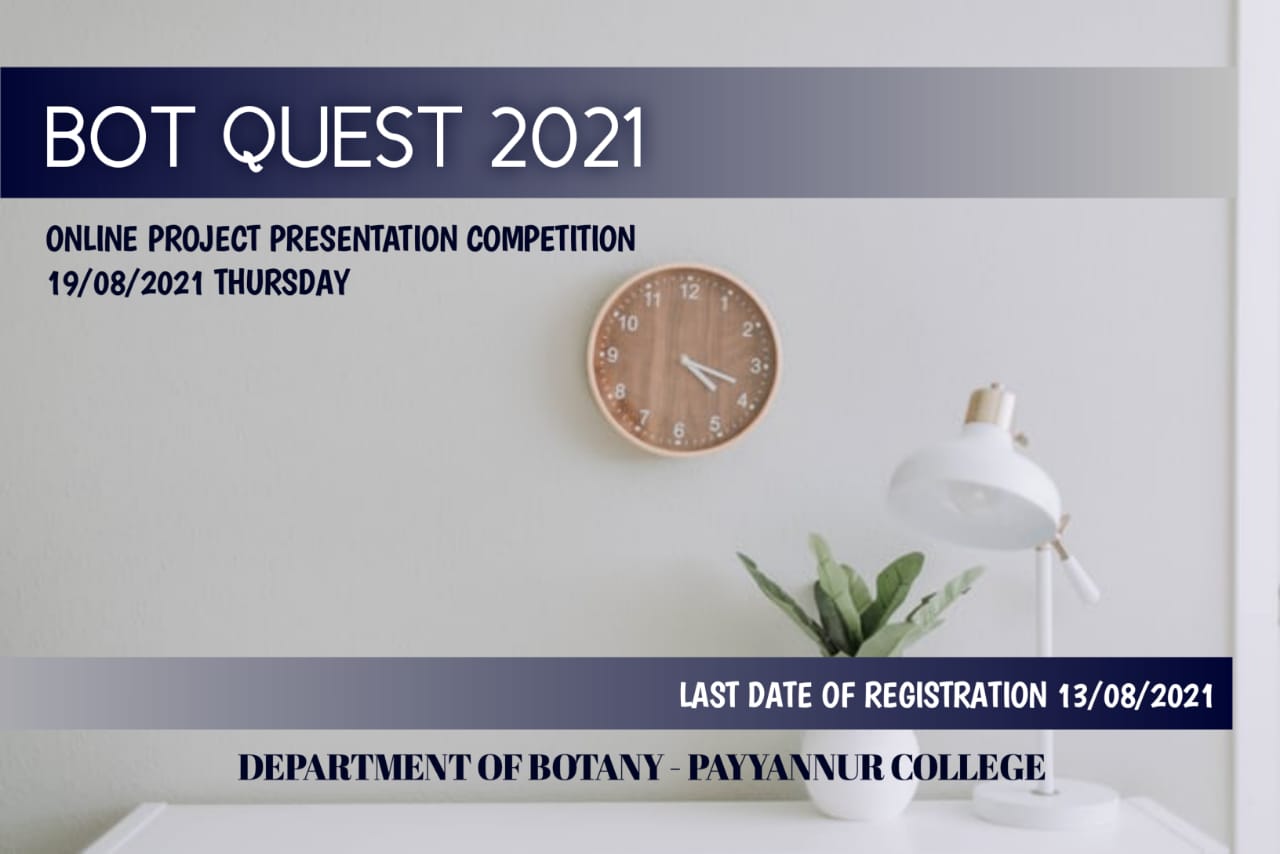 BOT QUEST 2021-ONLINE PROJECT PRESENTATION COMPETITION- DEPT OF BOTANY
DEPT OF BOTANY, PAYYANUR COLLEGE
BOT QUEST 2021

ONLINE PRESENTATION COMPETITION


Organized by:
Department of Botany
Payyanur College, Payyanur

"Observing 40th year of commencement of graduate course in Botany"

Dear Colleagues,
We are extremely happy to announce this online competition!
Eligibility:
B. Sc. Botany Students (2018-21 Batch) from colleges affiliated to Kannur University can participate in the competition. A maximum of 4 students can propose their applications from a college.
Guidelines:
• The presentation should be based on the B. Sc. project carried out during 2020-21.
• An abstract should be submitted along with the registration. The first-round selection shall be based on the same.
• The number of slides should be less than 15 and should invariably contain the following information. Background information (1 slide), Objectives (1 slide), Methodology (1-2 slides), Results and Discussion (4-10 slides). The presentation can end with sharing some of the experiences during the course of the project.
• A presentation slot is for 10 minutes, followed by a Viva for 5 minutes.
• The Last date for Registration is Friday, 13th August 2021.
• Date of the competition is Thursday, 19th August 2021.
• Time slots will be provided to the selected participants by Tuesday, 17th August 2021.

Prizes and Awards:
The best three presentations appraised by a panel of evaluators shall be awarded and all the participants shall get their certificates of participation.

About Payyanur College:
Payyanur College, Payyanur is an aided college affiliated to Kannur University with an outstanding performance in all aspects of higher education since its inception in 1965. Department of Botany is having its undergraduate programme since 1981.